Nine's features for Android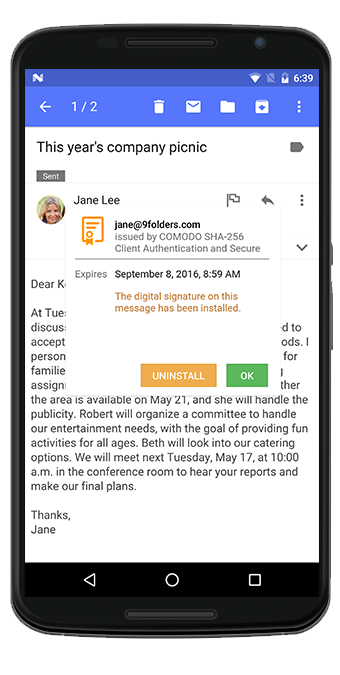 The security of mail communication is essential for doing business. So we have provided various features related in mail security.
Secure Sockets Layer(SSL)
Message encrypting(S/MIME)
Information Rights Management(IRM)
Global Address List(GAL)
Client Certificates
Direct Push Synchronization with Exchange ActiveSync. Nine does not have any server to store user's Nine data. Nine app connects to user server directly. All Nine data is stored in user device only.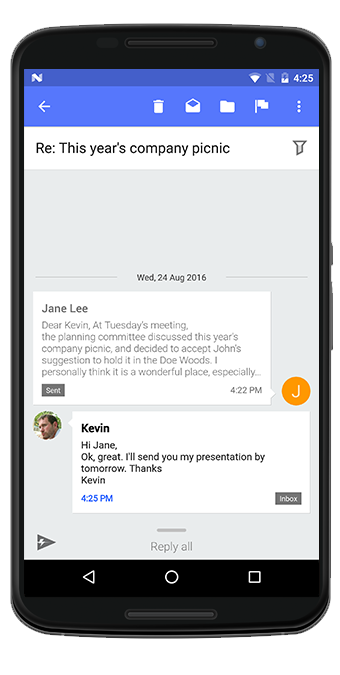 Nine is too easy not to need a manual, because all interface and functions are simple to learn. Most tasks are to be fully automatic or it can be manual configurable works if you want.
Automatic setup for many popular email services like Office 365, Exchange Online, Hotmail, Live.com, Outlook, MSN or Google Apps
Hybrid Email Search(Integrate with fast local and online search)
Conversation Mode
Notes Sync(Exchange 2010 or higher)
Tasks Sync(Tasks, Reminder, Categories)
SMS sync(Exchange 2010 or higher)
Contacts sync(Categories, Ringtone)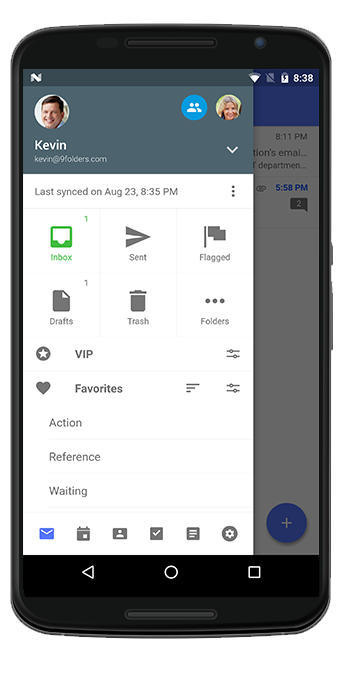 We have provided lots of features in this app for the convenience of our customers. With this app, you can manage all your business.
Multiple email accounts
Calendar and Contacts(Integrated into stock Calendar and Contacts application along with Nine account)
Rich-Text Editor(Android KitKat or higher)
Full HTML WYSIWYG Editor
Favorite Folder(Be able to check out all of email messages including sub-folders in one special folder at a time)
Supports Android Wear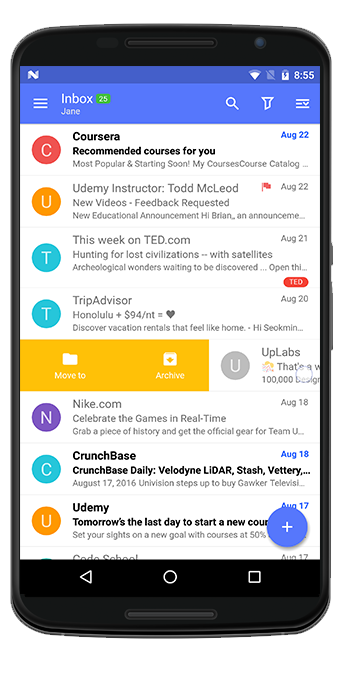 With years of experience in developing an email client for mobile devices, we listened to many requests from our clients. And we have tried to add even more. Enjoy it!
Great User Experience & Beautiful GUI
Full HTML(inbound, outbound)
Unread Badge(Nova Launcher, Apex Launcher, DashClock and Samsung & LG devices)
Widgets(Unread badge, Shortcuts and Email list)
Actions(Swipe, Notification)
Select folders to push (Email notification per each folder)


Android 6.0 | Marshmallow




Thank you for waiting for Nine for iOS. Nine for iOS TestFlight beta program has been ready. Please sign up in the link below to join the Nine for iOS TestFlight beta program and you will receive an email from TestFlight with instructions to download the latest beta release.
https://goo.gl/forms/BbVpkv2SJeBPW6qf1
Please remember that beta versions of the app are still in development. Although we do our best to only launch features that are ready, beta versions may not be completely stable and there is a chance that the app will crash or you may lose content while using it. If you have any feedback for Nine for iOS, please contact us at
feedback@9folders.com
.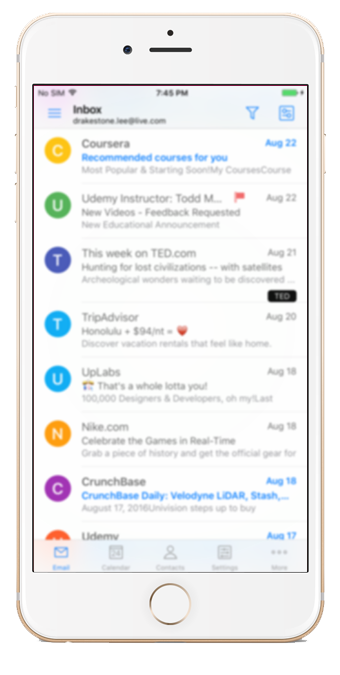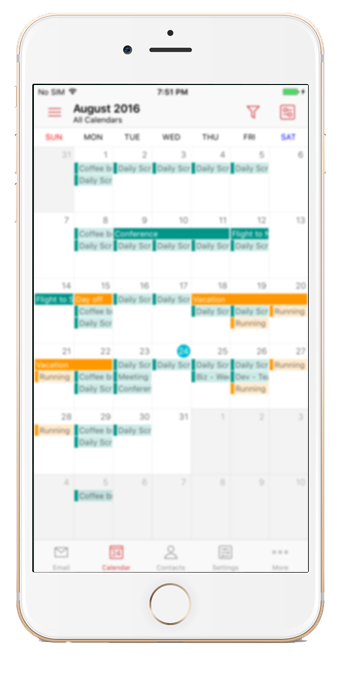 Exchange Server 2003 SP2/SP3 and above
Office 365, Hotmail, Outlook.com
ActiveSync is fully supported for paid Google Apps account
Other servers (IBM Notes Traveler, Groupwise, Kerio, Zimbra, Horde, IceWarp, MDaemon etc) supported Exchange ActiveSync