Nine

ways to

manage your



business and life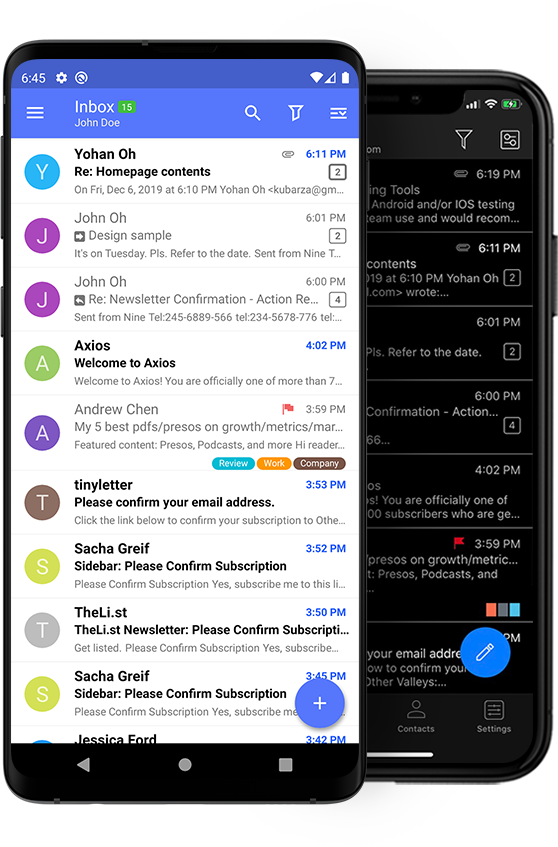 Nine - Email & Calendar

Nine is a full-fledged email application for
Android & iOS based on Direct Push technology
to synchronize with Exchange family servers,
as well as various IMAP servers. Only accounts
supporting ActiveSync can use all features
such as email, calendar, contacts, tasks, and
notes, in the case of IMAP currently, it only supports
email synchronization.

Nine Work Enterprise

Nine Work is an enterprise mobile business
email app that allows you to sync with
Exchange Server using ActiveSync, based on
Android Enterprise, and will also be offering
products for iOS soon. Nine Work is compatible
with MDM solutions such as
AirWatch, MobileIron, Intune, Rubus,
etc., which are based on Android Enterprise.
Email

You can log in and sync your Exchange email account simply by entering your email address and password in Nine. Your Exchange account linked to Nine synchronizes Mail, Calendar, Tasks, Notes, and Contacts on the server. Data created in Nine is also synced to the server in real-time.

Calendar

Nine Calendar allows you to manage your personal and company schedules, invite people to meetings, share calendars with them, and more. You can interwork your flagged emails to your calendar and tasks, and you'll also use a variety of features that allow you to keep track of coworkers' schedules and adjust meeting times.

Contacts

Nine Contacts can be synchronized to mobile phone by synchronizing with the contacts of the server, which allows you to organize your contacts efficiently when handling your company work.

Tasks

Nine Tasks allows you to interwork your mail and calendar, your To-do list, letting you manage and handle your To-do list from anywhere.

Notes

Nine Notes can easily record work-related notes anytime, anywhere, allowing you to easily work with Nine apps such as Email, Calendar, and Tasks.
Testimonials
Michael Linenburger Michael Linenburger's blog:
finally adding Nine to Ninja and
1MTD-Outlook Courses Android "Nine" Videos Added to
Ninja and 1MTD-Outlook Courses
Michael Pietroforte /
founder and editor of 4sysops I think it is safe to say that
Microsoft just snapped up the
wrong Android email app.

Not only is Nine a more powerful
email app than Acompli, but it is also much better
adapted
to Exchange and Office 365.
Yes, Nine is THE Outlook app for
Android.
Tom Dawson /
Editor-in-Chief of AndroidHeadline Nine is an Android app that
offers up a good amount of
customization and organization

without getting too cluttered.
With great Material Design look
and feel Nine is a great app

for those that want to make better
use of their email accounts
on mobile.
Derek Walter /
a freelance technology writer Nine is much like Outlook in look
and feel, but it offers a few more
customization options.

It also smartly integrates with
your fingerprint lock, so your email
will be doubly secure.